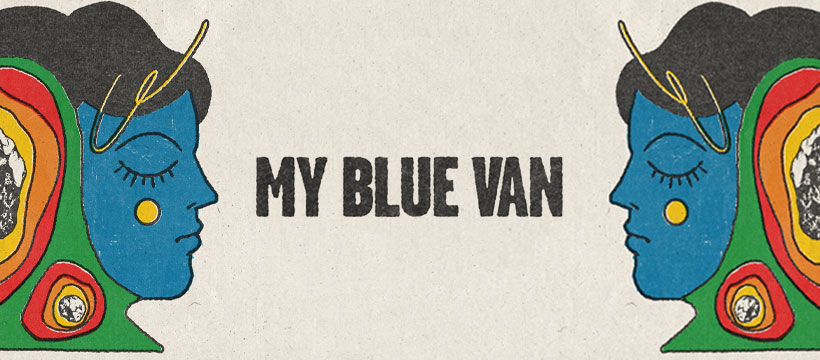 My Blue Van's fourth and untitled album is set to be released on July 2nd of 2021. Why come out with an untitled album this far in, you may be wondering. Lack of inspiration or creativity? Nope. Anything but that, in fact. A fresh start with a clean slate? Nope, not that either. Even though the Utrecht-based trio recently changed tack, they are extremely proud of the musical road they have travelled so far as a band. "After all, it is this road that took us to the point where we are now", frontman Bas Beenackers is keen to explain. "However much this may sound like a cliché, to us this feels like we have only just found our true sound on this record."
Which is exactly why the new album has remained untitled: it is My Blue Van.
It has been ten years since vocalist, guitarist and songwriter Bas Beenackers, bass player Johan van Bussel and drummer Dennis Wechgelaar were jamming on the stairs leading up to a student house along the Vleutenseweg in Utrecht one summery afternoon, when a vintage blue van parked across the street. The three looked at one another and toasted their beer cans: they had just found a name for their band. 
Over the years that followed, My Blue Van played up and down the country, winning various awards and recording three critically acclaimed albums along the way: As Colours Change (2013), Hush (2015) and Robot (2017).
They have just released album number four: My Blue Van. As stated above, before embarking on the recording sessions, the band had decided to change tack. For this album, they decided not to call on the services of an outside producer or to track in a fancy studio, but to do everything all by themselves. Just the three of them, at home, in the garage. Working at their own pace, to their own rules. No outside interference but total freedom. The entire undertaking proved to be a time-consuming affair, but the result reflects this new-found spirit of independence.
Listen to the ten tracks and it's one surprise after another. The band have skilfully woven raw rhythm and blues, funk rock and even hip hop beats into an irrepressible blend that viciously hits your ear drums one moment before carting you off to a sunny seaside destination the next. My Blue Van's musical riches simply cannot be taken in in just one listen. 
But more than that, it's also the band's most personal album to date, Beenackers concedes. "I have worked my own experiences of love, friendship and the human condition into the lyrics more than I've ever done before."
Exactly! Which is why the album can rightly be said to be all My Blue Van.